Receiving Messages in Echo
You need to have a two-way account to receive SMS messages into your Echo account. If you have one, you will have been assigned a Virtual Mobile Number, which looks like a normal mobile number. Usually, you won't have one if your first purchase was via our eCommerce platform, or if you have a trial account as Virtual Mobile Number can only be assigned by Account Manager.
If you don't have a two-way account, but would like to receive inbound messages, our sales team can help you if you call 1300 764 946, or email sales@esendex.com.au.
How to view your inbound messages in Echo
To view your inbound messages, once you've logged into Echo, you need to click your 'Inbox' button.
Your messages will be listed in date order and unread messages shown in bold.
This view only show you part of the message; to view the whole message just click into the message.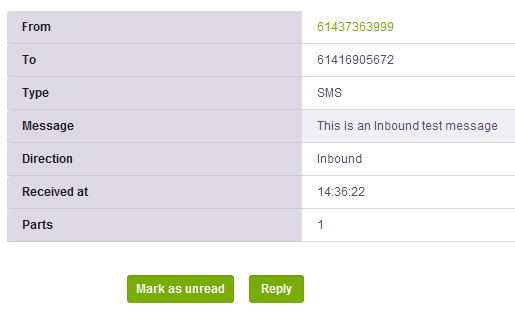 You can choose to reply from here; this will take you through to the Simple send screen with the recipient pre-populated.
If you click on the green 'From' number, it will take you to a conversational view between the number and your account.